$65,000 USD
Starting At Per Week
Touche
from $65,000 USD Per Week
---
---
---
Staterooms
Cabin Name
Master Stateroom
---
Cabin Name
Guest Stateroom
---
Cabin Name
Guest Stateroom
---
Cabin Name
Guest Stateroom
---
Amenities
*For a complete list of amenities and features, please, contact the listing agent.
Toys And Tenders
Rates
PRICE (low)
$65,000 USD/Per Week
PRICE (high)
$65,000 USD/Per Week
LOCATION
Florida and The Keys
Get more information on this listing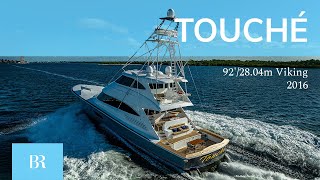 Full Specifications
---
Additional specifications are available for this listing. Click below to get detailed information.
More information or schedule a showing
Email Charter Agent
Marian Walker
BR Marine Group
Full Specifications
receive full specifications on this listing
from the certified yacht broker.